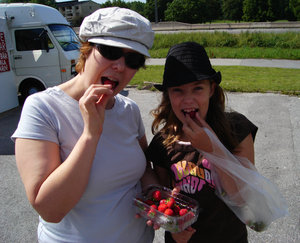 1. Where are you from and/or where do you live?
I was born in Romania in a city (Oradea) only 20 km from the Hungarian border; many people who live there are hungarian, my family as well, so my mother tongue is hungarian. I learnt romanian later at the childrengarden and basic school.
I moved to Sweden when I was 20 years old, so my passport and my university degree are swedish. Much later, when the idiot at Scania told me I didn't have the right education when solicitating for a job as engineer in scientific computing (I am a MSc in guess what? Scientific Computing!!) I gave up on both trying to find a job in Sweden and my precious education.
I took a job in the pharmaceutical industry as modeling & simulation scientist (pharmacokinetics) in Germany in 2004. It didn't klick though with my (actually dutch!) boss, so I started working and living in the Netherlands, Nijmegen in 2005 and do that ever since.