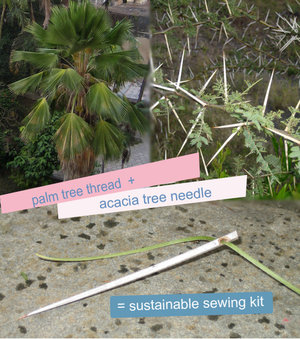 Although only two weeks old, I just have to interrupt my weekly "Wardrobe Remake" column and share a little bit of my Africa travels.
Besides of many close encounters with lots of animals such as giraffes grazing in our camp, monkeys waking us up in the morning fighting over whatever the heck etc., I was fascinated by all the different crafting skills that I encountered. One of our guides showed me on one of our trips through the forest of the Arusha National Park in Tanzania (with view at the Kilimanjaro), how clothes were sewn long before there was access to sewing needles and thread.
The most common tree here in the plains is a kind of acacia tree. The branches of this tree has long thorns to keep animals, like giraffes and others from eating all the leaves before the tree has a chance to grow big and strong. Those thorns, very sharp and strong, can easily be broken off the branch and were for their sharp points perfectly usable as needles. All one needed to do was create a little hole in the bigger end of the thorn just like an eye of a sewing needle.
Thread was made out of a palm leaf. The leaf, once folded in half would break in two and have leave in the center a thin string that could be gently pulled off the rest of the leaf. (kind of like the string on the edge of a string bean). That string was inserted into the acacia tree thorn and ready was the sewing tool.
I thought that that was so neat that I was more than tempted to bring home a little sewing kit. I had to realize though that those thorns work for a couple of days and then get pretty dry and easily breakable. Better that way, otherwise I would maybe have insisted on getting the next collection done by sewing with sustainable acacia tree thorns…