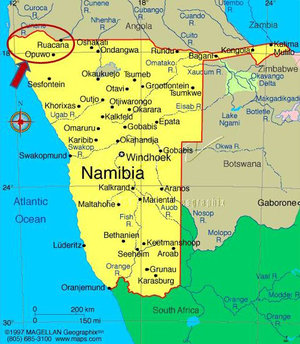 Imagine you would move several times a year. You would have to pack up yours and your families entire wardrobe, your other belongings, your sewing machine. Imagine in addition, that when you move, you move by foot, there is no big truck coming to pick up your things but you and your family will be carrying it. Imagine on top of it all, that the weather is actually pretty hot, since you are living in a semi-desert! What would you do? Probably you would start having as little as possible, to avoid having to carry around all these things every time you move. And maybe it actually would be best to dress you and your family in next to nothing! And that is exactly what the semi-nomadic Himba do, who live in the North of Namibia, an African country that is located in between Angola and South Africa on the west coast of the continent. Yet, do not think that wearing nothing means there is no style or concept of beauty.
Many groups of Himba have retained their traditional lifestyles of cattle herding, moving with the rains to find fresh grazing grounds. And with that many of them, especially women and children have retained their traditional way of clothing: in their infancy, Himba children usually do not wear clothes and their heads are mostly shaven. Yet, already from birth, they are adorned with beaded necklaces which have all sorts of symbolic meanings. Once they get older they will wear leather loin cloths or mini-skirts, made from soft goat or cattle skin and plait their hair in a distinct fashion depending on whether they are girls or boys. Adults don't wear much more, yet, they are richly decorated with necklaces and bracelets made from metal, leather and shells and even more intricate hair styles. Clothes, jewelry and fashion are not ends in themselves but all have a spiritual meaning or practical function. For example, the thick metal bands around their feet are said to serve as protection against snake bites.
In this world, without garments and fabrics, women have found a most unique way of covering their bodies, to both decorate it and to protect their skin from sun and weather: they cover their entire body, including their thick braids and often even their leather skirts in a thick mixture of butter fat, ocher and aromatic herbs that gives their skin a fascinating earthen-red hue. Words are not really apt to describe the special beauty of this people, but there are plenty of pictures available on flickr.