Trend Pattern!

Long Blouson

Wear it with an elegant dress or with track trousers: Long blousons work with every outfit!

Meg's Mash Up

02/2019 Part 2

Meg continues to work on her Trench Coat from the February issue!

Pattern Collection

Breaking News: 6 Casual Plus Size Patterns

Office style meets casual chic – cool cuts in statement fabrics!

Fashion & Trends

Sew The Trends

See the hottest trends hitting Men's Fashion Week for Spring 2019 and how you can sew the looks!

Pattern Collection

True Love: 6 Simple Kid's Patterns

Sweet nostalgia… dresses, tunics and trousers are like from a children's book
Sew & Tell: Episode 8
We talk inspiration every week, but what happens when you just can't find any? Our hosts will discuss "sewist's block" and how to deal with it.
We usually talk all about women's fashion trends, but what about the guys? On our latest episode ...

Exposed zippers are a fabulous way to add a little edge to your garment, and they're also super s...

This accessory will keep you warm throughout the rest of the winter and It's quite chic to ...
Pattern of the Week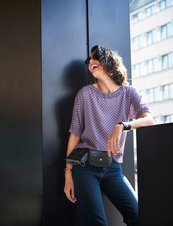 Produced by burda style magazine