DIY to Try

Hanging Sewing Organizer

This organizer for sewing supplies is both pretty and practical - as well as always in reach!

Pattern Sale

Hello Summer, Hello Savings!

Summer's here and so are the savings! Take 40% off 40 summer patterns until June 24th

Meg's Magazine Mash Up

Part 2

This week Meg completes her bodysuit with the sleeves and all - as well as a special announcement!

Quick Tip

Piping & Bias Finishing

Whether on the lapel or neckline: piping & bias perfectly emphasizes seam lines, & finishes edges

Pattern Collections

Polished & Beautiful: 11 Elegant Patterns

Dreamy against the skin and incredibly breezy for hot days
Italy Fashion Tour with Burda
LAST CALL - 4 spots remain! Escape with fellow sewists to an exclusive trip around Italy touring everything from wineries to fashion houses.
NET A BEAUTY ! Our must-have ignores its origin as a lowly shopping bag and proudly presents itse...

Our latest FREE sew-along Swimwear Shape-Up launched just last week and we already have seen some...

Sorry for the delayed start to my June Mash Up, I was super busy prepping for our next sew-along ...
Pattern of the Week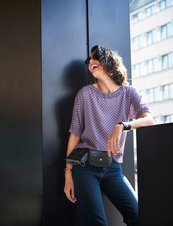 Produced by burda style magazine