Understanding Negative Ease And How to Calculate It When Working With Spandex Fabrics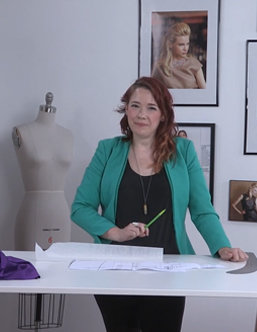 At a glance
Video Duration: 5 minutes 59 seconds
You'll love this video if:
You want to sew a fitted knitwear garment
You want to modify a pattern intended for fabrics with little to no stretch
You want to learn more about sewing and drafting for stretch fabrics
You will Learn:
The formula required for calculating negative ease amounts
How to add these modified measurements to an existing pattern
How to blend your new seam lines
Description
In this video tutorial, Meg Healy will explain the concept of "negative ease" and why it's important when sewing with stretch fabrics. You'll learn the formula for calculating negative ease and how to transfer these measurements to your initial pattern. Allowing for negative ease takes the stretch of your fabric into account to ensure your finished garment will fit properly and look professional.
Watch a sneak peak!
About the Expert:
Meg Healy began to sew at the age of 12, where she began experimenting with fabric and seams on her Brother little domestic sewing machine. Studying at both Fanshawe College and Parsons the New School for Design in NYC, Meg gained the technical skills in pattern making and advanced sewing that led to a number of awards for her design and construction skills. Before becoming the Online Editor of BurdaStyle.com Meg worked as a pattern making intern for Vera Wang. Meg also launched her own highly unique clothing line consisting of fashion-forward spandex leggings in 2010.
ShareThis