Plus Size: Pattern Grading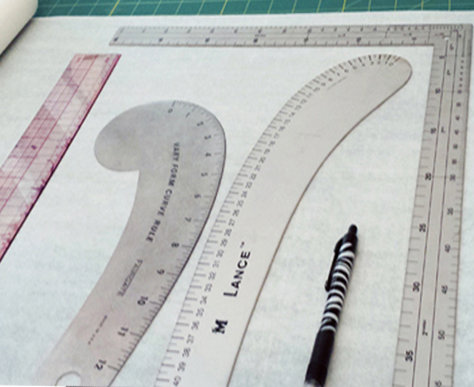 At a glance
During this web seminar you learn to grade ( increase sizing ) Plus Sizes to paper patterns
Fundamentals of Basic Grading Procedures using the Ruler Method
Easy and simple steps for woven and knit clothing
Description
For most sewers you can't own enough sewing patterns. And so many of our favorite vintage or current commercial patterns just aren't the right size, and in fact much too small!
Pattern grading is the process of increasing and decreasing a the size of pattern. The purpose of grading is provide good fit without changing the balance and proportion of a design.
This web seminar will provide you with the information and skills to transform paper patterns into plus sizes that really fit.
What you'll learn:
How to measure your current pattern
Calculating the amount needed to be graded to meet your personal measurements
How to use a clear ruler 2" x 18" or 24" to measure and grade
Cardinal Points and Pattern Orientation
Developing Grade rules
Blending marked lines
Checking seam lengths and notches
Who Should Attend:
Sewers wanting to expand patternmaking knowledge
Sewers who want to recreate an existing pattern in to larger sizes
Sewers who want to become better aquinated with the ruler method of grading
Sewers who want to learn variations in grade rules
Sewers who want to develop stronger skills using the Clear Ruler
Difficulty level:
This web seminar is designed for sewers who have experience working with sewing patterns and some background in using measuring equipment.
About the Instructor:
Simone Sangerman studied fashion design and earned at the University of Washington, and studied commercial design and patternmaking at the Fashion Institute of Technology. Simone is the owner of Simone & Sylvia and the children's line Plastic Pony. For the last 25 years Simone has provided fit consulting and pattern making services to a diverse client base. 30 years of industry experience in design, draping, pattern making, grading, and all aspects of apparel design. Prior to forming Simone & Sylvia, Simone worked professionally as a designer and pattern maker for several well known fashion labels in the USA.
This is a recording of a previously presented, powerpoint-style live-streamed web seminar.
BurdaStyle does not offer any refunds for web seminar recordings. All sales are final. Please contact answers@burdastyle.com if you have any questions about the content of the recording.  
ShareThis