How to Put your Fabric On-grain by Ripping Across the Crosswise Grain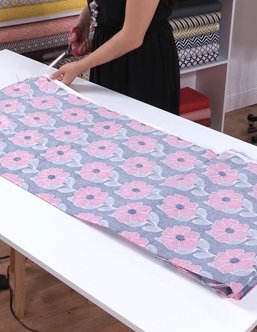 At a glance
Video Duration: 4 minutes 24 seconds
You'll love this video if:
You want to ensure your grain lines match up with the selvages
You want to avoid having to cut out extra pieces
You'd like to avoid ill fitting garments
Techniques Demonstrated in this Video:
How to find the precise grain on your fabric
How selvages can be misleading when trying determine the grain line
What to do if your fabric was cut unevenly when you bought it
Description
In this video, Denise Wild will fill you in on a time saving trick for finding the true straight grain of a fabric. You always want to ensure your the grain of your fabric lines up perfectly with the straight grain on your pattern, to avoid any complications that may come up once your fabric has been cut. This is a great technique to use to find the precise straight grain of the fabric.
Watch a sneak peak!
About the Expert:
Sewing expert, magazine editor, and author Denise Wild is the Founder of LoveSewing and The Sewing Studio and the Content Director of BurdaStyle. Denise started teaching sewing classes in her Toronto apartment in 2004, and those classes evolved into The Sewing Studio New York, now one of North America's leading sewing schools. Denise is the Editorial Director of BurdaStyle US magazine, and has worked as a magazine editor since 2000 for top national publications including FLARE, House & Home, Faze, and ANOKHI. Denise wrote the popular sewing reference book Mend & Make Fabulous, and has written for numerous publications and networks including Hello!, Elle, HGTV, W Network, Glow, Elevate, Chatelaine, and Slice.
ShareThis