Unexpected Tools for Sewers
Added Feb 17, 2014
by Linda74Sews
Livonia, Michiga...

Step 2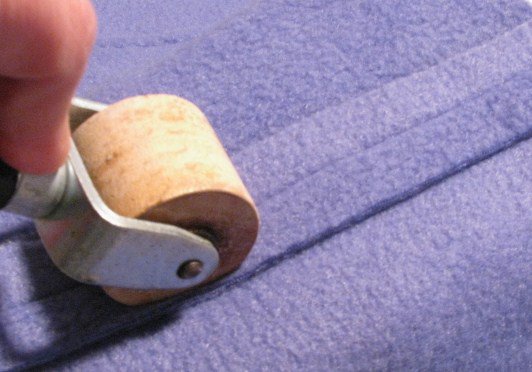 The other tool I'm fairly certain is not in too many sewing boxes. It is a wallpaper roller. Once again, you heard me right. Its that thing you roll over the wallpaper seams to ensure the edges adhere securely to the walls. Well, it sort of does the same thing when used for sewing. I use it to help flatten and secure open seams on fabrics like wool and fleece.
First things first -- buy a clean one! They're cheap and readily available at any store selling paint & wallpaper supplies. You don't want to use one with layers of wallpaper glue already on it because when used for sewing the steam from your iron will transfer the glue onto your fabric - Yuk!
This simple device does the same thing a clapper and seamroll would do, but if you don't have either of those, this is a great alternative. What I especially like is it prevents the edges of a typical ⅝ inch seam from leaving an imprint on the right side of the fabric. Wallpaper rollers are typically only 1 inch wide so logically the seam edges remain untouched. This works well on wool and its a great tool for sealing glued seams on leather and even felt for craft projects.
Who knew something so simple and handy can become must-have tools in the sewing room. I love when that happens. Look for more easy solutions to many sewing dilemmas on my blog Simply Sewing Studio (www.simplysewingstudio.com).
May 25, 2014, 10.53 AMby tupppi