KEEP THAT DRESS ON YOUR SHOULDER!
Added Jul 31, 2010
by magdamagda
Romania, Romania

Intro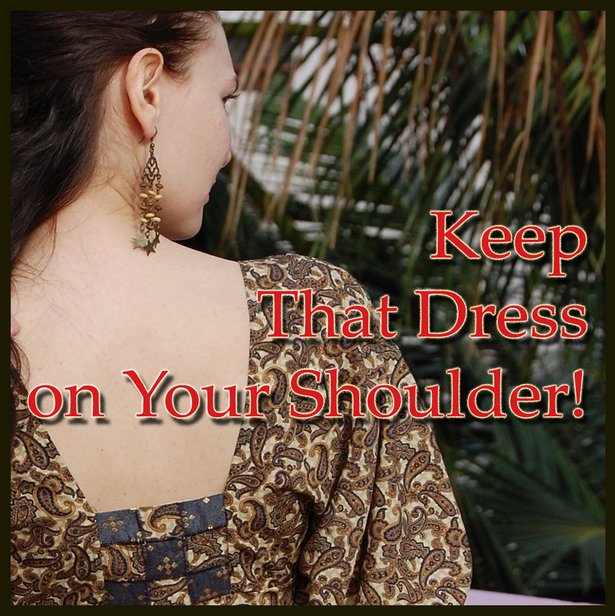 This tutorial is about a simple add-on that helps you if you are bothered by
your bra straps showing on your shoulder or if your top is slippery and
has a tendency to fall off your shoulders. Of course, it solves only
the problem of the clothes you would wear a bra with, and we rarely
don't, right? - regardless of the shape of your body a bra gives you
confidence and support. So let's take advantage of that - on one hand -
and let's not let that become a problem - on the other hand!
This is certainly not a discovery i just made - some of you might have been
doing this already! It's an option I noticed on the short blouses worn
with a sari by Indian women, blouses which beautifully reveal a good
part of the shoulders. If you ever tried to fix the problem using 2
safety pins then you'll surely appreciate the alternative! :))
These pictures were taken while making this improvement to this "design":http://www.etsy.com/listing/33013217/vanilla-coffee-top-custom/ ! I also used it
for this design "A Horse for My Kingdom" pictures "here":http://magdamagdadesignstudio.blogspot.com/2010/07/horse-for-my-kingdom.html/ which i also published on burdastyle "here":http://www.burdastyle.com/projects/a-horse-for-my-kingdom/ ! And I'm planning to use it more - carefree-ness matters!
Would you use it? Take the poll on my blog and let me know! http://magdamagdadesignstudio.blogspot.com/2010/07/technicalities-keep-that-dress-on-your_31.html/
Technique Materials
a strip of fabric, thread, safety pin, measuring tape, sewing machine (optional), 2 snap fasteners
0 Comments