Fun With Feathers
Added Nov 26, 2012
By burdastyle
New York, New Yo...

Step 6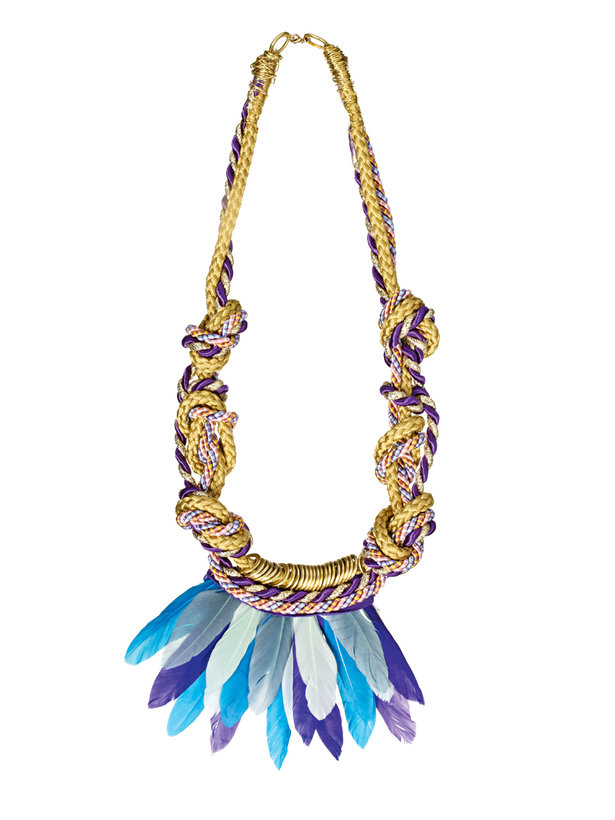 This knotted necklace with feather outshines the top underneath.
Materials:
3 different cords, Ø approx. 1 cm (3/8 in): each 1.20 m (48 ins) long. 20 feathers, approx. 10 cm (4 ins) long, in various colours. 1 necklace clasp (Rayher). Cotton tape, 2 cm (3/4 in) wide: 0.20 m (8 ins). Approx. 25 gold-coloured rings, Ø 1.2 cm (1/2 in). Gold wire. ­Sewing thread.
Instructions:
Lay the cords next to one another and mark the centres. Slide the rings over the upper cord and place the rings in the centre of the cord. Hand-sew the centres of the cords together, 10 cm (4 ins) long. On both sides of centre, knot cords loosely together, 3 times, leaving small spaces between knots. On each end of cords, wrap wire around all three cords, then ­slide wire ends into wrapped end. ­Attach necklace clasp to cord ends. Cut cotton tape into 2 equal pieces and fold each piece in half lengthwise. Lay upper ends of 10 ­feathers into each folded tape, placing feathers next to one another. Sew feathers to tapes, varying the lengths slightly. Lay tapes with feathers ­under centre of necklace and sew in place.
0 Comments