Color Inserts
Added Jan 21, 2013
By burdastyle
New York, New Yo...

Step 3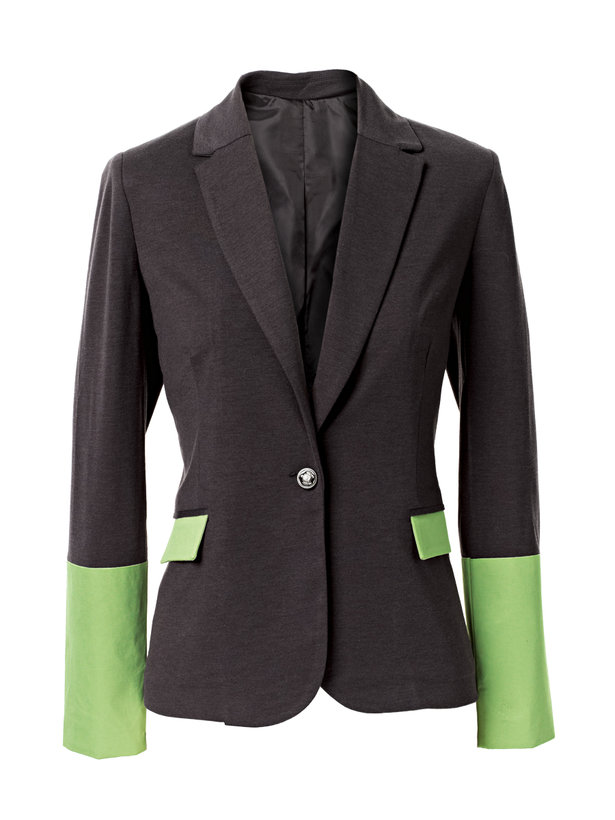 Materials:
Jacket. A piece of contrasting fabric, approx. 30 x 40 cm (12 x 16 ins). Interfacing. Sewing thread.
Instructions:
Turn jacket sleeves wrong side out. Detach lining from each sleeve hem and turn lining up. Cut horizontally across sleeve, approx. 20 cm (8 ins) above hem edge. On one trimmed-off sleeve piece, open hem and sleeve ­seam. Press this piece smooth and use as a pattern piece. Pin this pattern piece to a doubled layer of contrasting ­fabric. On upper edge of pattern piece, add 2 cm (3/4 in) wide seam allow­ance. Cut out contrasting sleeve pieces. On each of these pieces, iron inter­facing to wrong side of hem allow­ance. Stitch sleeve seams and press seams open. Press hem allowances to wrong side and sew in place by hand. Stitch contrasting pieces to ­lower edges of jacket sleeves, stitch­ing 1 cm (3/8 in) from edge and match­ing seams. Press seam allowances down. Turn sleeve linings down again and sew to hem allowances. Turn jacket sleeves right side out.
To make the flaps, first measure the length of the jacket pockets (slashed pockets). Cut 2 flap pieces, each in measured length plus 2 cm (3/4 in) and 14 cm (5 1/2 ins) wide. Fold each flap piece to 7 cm (2 3/4 ins) wide and stitch narrow edges closed (width of seam allowance = 1 cm/ 3/8 in). Turn flaps right side out and press. On each flap, finish open edges together, slide this edge under upper pocket opening edge, and pin in place, ­making sure that jacket lining lies smooth. Turn binding on upper ­pocket edge up slightly and stitch flap edges in place.
0 Comments