A Novice's Guide to Draping
Added Apr 14, 2011
by joboenvogue
Suburbia, Illino...

Step 6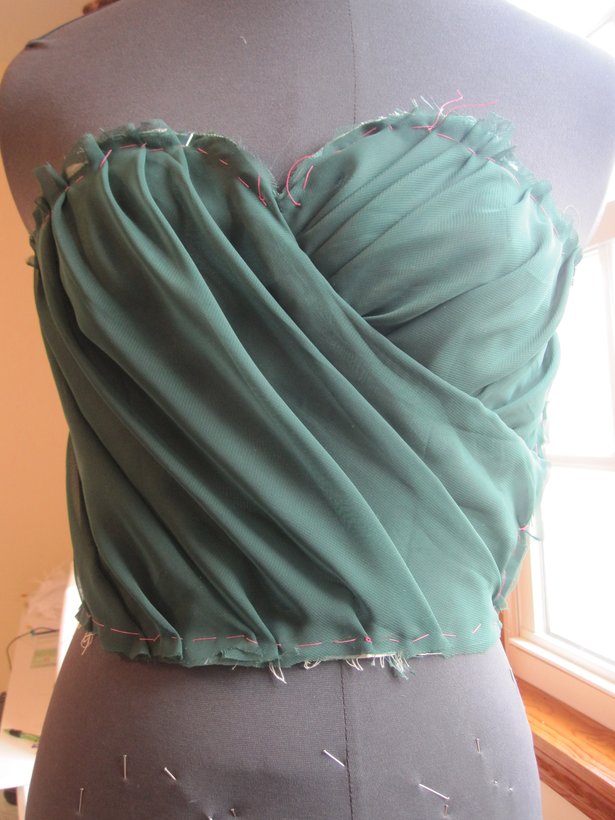 It's time to sew the fabrics together so that you can remove the pins! For the edges, I basted bright, strong thread into the seam allowance, making sure every pleat at the edge of the bodice is secured in the stitching. Go around the entire circumference in this manner, with a neat basting stitch. For the seam in the center of the bodice where the pieces meet, I used clear nylon thread. I discreetly sewed the right piece of the bodice and then folded the left piece over it, then sewing the left into place. This leaves no raw edges and looks very polished.
Trim off excess fabric after you finish basting the draped fabric. Now you're ready to continue with your garment--all the raw edges in my gown woll be hidden in the skirt and the lining. Once these pieces are sewn to the bodice, you may remove the bright colored basting.
Remove the pins as you go, take your time. You'll get the feel for the fabric as you go! It takes time and patience, but it really pays off!
1 Reply

1 Reply

May 4, 2011, 08.56 AMby gabyr

1 Reply

Apr 22, 2011, 05.33 PMby aleah

1 Reply

Apr 20, 2011, 01.48 AMby barb09

1 Reply

Apr 16, 2011, 09.35 PMby shonel

Apr 15, 2011, 08.07 PMby barb09

2 Replies