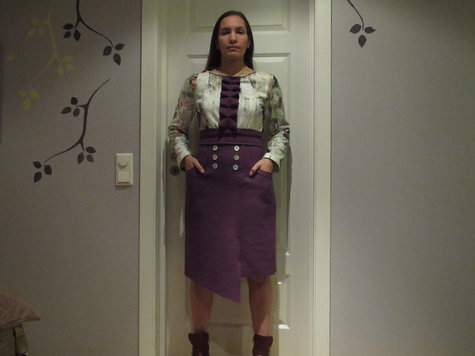 The idea for this project came after I finished my jacket and had quite a bit of fabric left over. The initial thought was simply to create a dress using the left over fabric for its skirt. Then I thought oh! maybe I can also do it so I can split the skirt and use it on its own. Then oh! maybe I should also create a bottom part for the bodice so it can be used as a sweatshirt. So it was decided and I took on my self created challenge.
The result became a dress consisting of a high waisted asymmetric skirt with pockets and a sweatshirt like top with a decoration from the skirt material. The decoration is removable, then the skirt can be detached to be used on its own and an extra bit can be attached to the top to create a sweatshirt.
My first self-designed project was based on slopers from a book I have: Magisk soem (Magical sewing) by Tine Solheim.