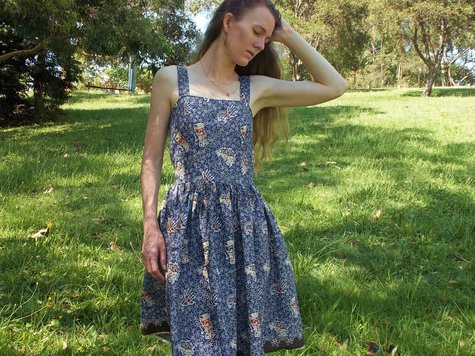 I love the fun of summer dresses. My brother and sister-in-law went to Indonesia earlier this year. They brought me home two pieces of batik fabric because they know how much I love sewing. I decided this fabric was just perfect for a summery dress.
The pattern is a free one from blogger Queen of Darts. She's called it her picnic dress. The fabric has lovely finished selvedges, so I made use of those for the hem, the bodice, and the cente back – it's a nice feature and less finishing touches that need to be done!
I really like the shape of this dress. It's simple but not boring, feminine but not fussy. It would be nice if it had pockets, but given that the skirt is only a single piece I didn't have any side seams in which to add them. I thought briefly about adding patch pockets to the front, but decided not to because I want to keep it as clean as possible. If I reuse this pattern I will probably add side pockets, but I'm happy with this one without them.
More details on my blog post: http://antipodeanstitcher.blogspot.com.au/2015/11/bali-batik-picnic-dress.html