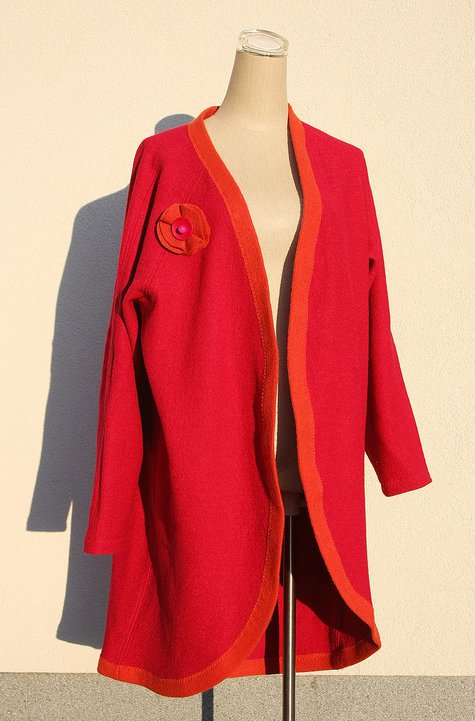 This is a Burda model from the last year (November, 2013). It's recommended to use knitted fabrics for the garment. I chose wool boucle fabric which is not exactly a knit but worked fine. To be entirely honest, the initial idea was to have a raspberry red cardigan but the fabric I had was not enough. I bought the red piece first. It's the only one left at the fabric shop, it was around 1.70 m (67 inches). Please have in mind that in Europe the fabric is wider than in the USA. So the piece was actually 1.50 × 1.70 m (59 × 69 inches). I cut out the basic pieces – two fronts, one back, two sleeves and found out that I am lacking 25 cm (10 inches) for the collar. I went back to the shop and had to find something else that'd work. The orange boucle was wonderful (at least for me).
It was an easy sew. The sleeves had two pieces each – front and back. I sewed the front pieces of the sleeves to the according pieces of the fronts. Same for the back pieces. Then, I attached the fronts to the back, starting at the shoulders. Next, I used my iron to press the 2.5 cm (1 inch) hem of the sleeves. It's easier to do it at this step and not when the entire sleeve is finished. I closed the side seams and the lower part of the sleeves in one step. Now, it was time to zigzag the sleeves' hems. I used a large decorative zigzag for this.
I cut three pieces WOF (width of the fabric), each was 6 cm (2.5 inches) wide. Pressed them with the iron in half lengthwise. Joined two of them together and placed the seam in the midback. Then I carefully hand attached them to the left front first. When I reached the side seam of the bottom I had to cut some of the current band and attached the third piece to it. I did this because the total length of the two pieces was approximately 25 cm (10 inches) less than what I needed. Whether I had attached the third piece at the end of the other one, it'd result in having two seams in the mid back which was not what I'd like. Therefore I stopped at the side seams and made the back from one piece. I repeated the steps for the right collar side. When the collars was fully attached I pressed with the iron and brought it back to my sewing machine. I used the same zigzag stitch to finally attach the collar.
As a last step I made a small orange brooch to add some detail on the otherwise plain cardigan. And voila, my handmade cardigan was ready!