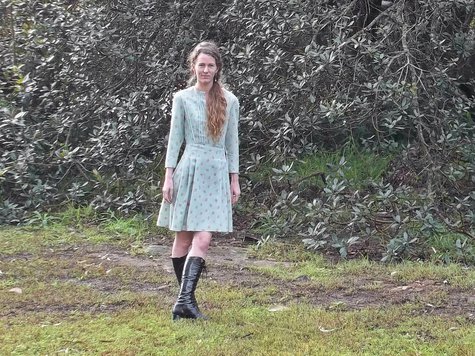 I bought this lightweight wool on a day trip to the Central Coast with friends a few years ago, but it had been sitting in my stash until I found the right pattern for it. A few months back I found the Garden Party Dress by Honig Design. It's a simple, vintage influenced dress with a few sleeve lengths and skirt hem variations. But what really stood out was the neckline option for this centre slashed crew neck. For a winter version made of wool it means keeping covered and warm but not feeling choked.
The pintucks are my own addition, and were something I'd thought would suit the fabric long before I found the pattern, so I decided to add them in. I'd never done pintucks before and didn't use any pattern so it was basically a case of cut the bodice wider and add tucks until it was the same size as the lining, which luckily worked out well!
I'm really happy with how it turned out, and really love the shape of this dress, which ended up being the perfect match for the fabric.
More details and pictures on my blog: http://antipodeanstitcher.blogspot.com.au/2015/07/winter-garden-party.html