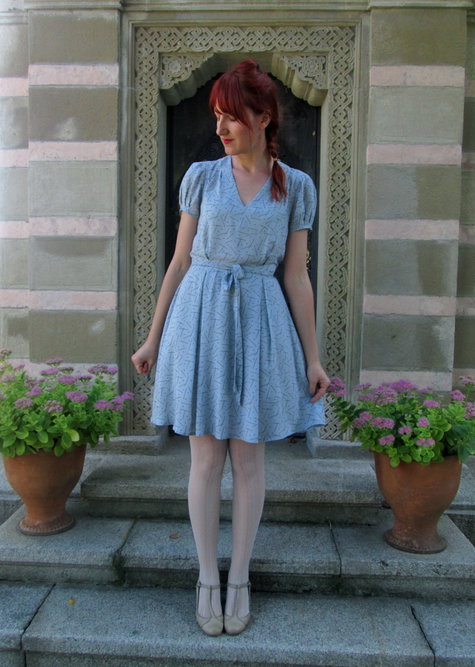 You know, because of the bobby pins! Obvious much? Yeah, I just couldn't resist it :)
I made this dress with the pattern #122 from Burda 05/2009 . It's a super cute pattern with lots of lovely details and a bit of 40ies vibe to it, which I all like very much. And for once I made a dress without making any modifications to the pattern, AND without making a muslin first! Yay for me.
Although I made this dress at the end of September, thanks to the Indian summer we seem to be having here I did managed to wear it a few times already. I even got a huge sunburn on my neck the day we took these pictures! That's what you get when you leave the house without your sunblock on. In the end of September. Oh yeah.
Despite the awful sunburn she gave me I really love the dress! I love the looser fit of the bodice and cute puff sleeves, so pretty. Also, this is one of those dresses that will get you lots of compliments from complete strangers and random people on the street! Although I have to admit, the credit for that goes mostly to the print. It's bobby pins and polka dots guys! How can I blame them. But I did chose it so I guess I should get some merit too :)