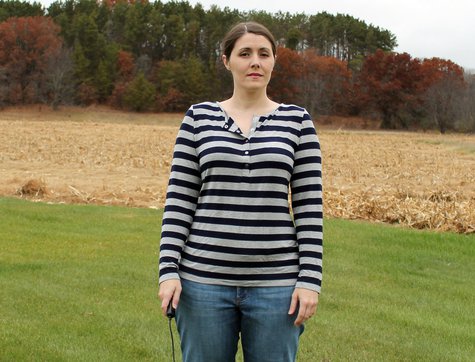 I sewed a size 42 in Shoulder/Bust/Waist to a 44 at the hip. I added a 1/2" square shoulder adjustment like I always do as well as a 1/2" sway back adjustment.
My fabric is a super drapey, soft rayon jersey. When I first tried it on, it was big all over, like super big. I ended up taking in 1/2" at each side seam for a total of 2" from bust to hip. It is comfortably loose now, not overly loose. I had to shorten the shirt 1.5 inches on the bottom and sleeve hems – they were so long!
I used the placket instructions from Jalie 2562. I was super careful to line up those stripes! I made the inside placket all gray. I also used 5 "smoke" colored snaps from SnapSource. I like how they go well with both the navy stripe and the gray stripe. My shoulders have stay tape to prevent stretching (because I despise how clear elastic feels, it is itchy!).
I love it! Perfect top for fall days.
blogged: http://sunnysewing.blogspot.com/2015/10/burda-122009-121-henleyfall-sewing.html