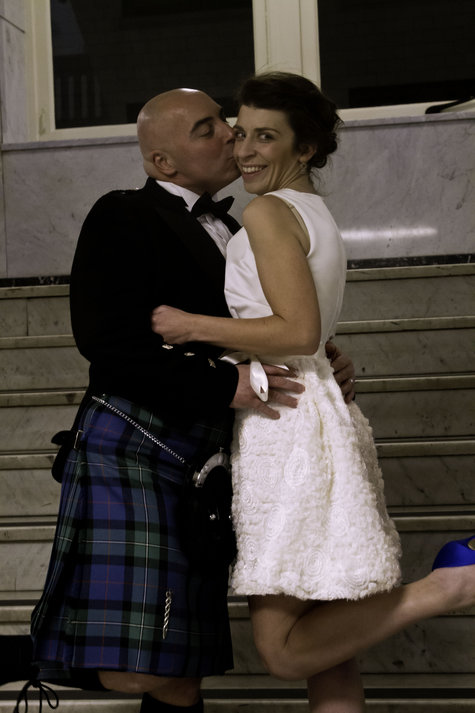 I had one week to make this dress for the impromptu wedding of my two friends. She wanted a short fit and flare dress to wear to their civil ceremony at the city courthouse. We chose New Look 6262 pattern to make the design. Fabric shopping was easy and successful at Fabric Depot in Portland, Oregon where they have lots of choices of bridal tulle, lace, satin and embellished materials and trim.
I whipped up a muslin, fit it, and was done with the dress in about 10 hours total. I am not really happy with how the bodice fit as it stuck out. Maybe I took out just a little too much at the bust dart and shoulder? I am not sure what I did wrong, but I didn't have time to make a new bodice. She was happy with it and OK with the fit, so it worked.
The pattern is unlined and has you make a facing at the neckline and bind the armholes, but I wanted to and needed to line the dress, so I just copied the bodice and skirt pattern pieces into a lining.
Overall, it was pretty easy to sew and super fun to make for her short and sweet wedding dress!
More photos and thought process of this dress on my blog "Ode to Sew" :http://odetosew.com/2014/11/27/short-and-sweet-wedding-dress/.