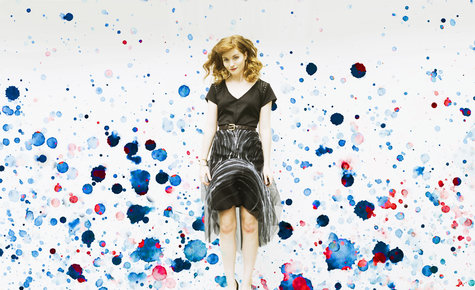 All photographs are self portraits taken by myself.
I designed and made my skirt as a part of my final project for my first fashion class this year at school. The class was Intro to Fashion Design and for our final we had to design and create a full garment that was inspired by an abstract painting. I chose a painting by Clive Watts, which is included in the project images.
I loved all of the circular movement in the painting so I tried to mimic the shape of the swirls in the actual sewing of the design. My design has five circular panels that were drafted and sewn as a part of the design. I will actually be teaching this technique during my class at The Sewing Party in November if you'd like to make a skirt like this yourself! I hope that you'll join, it's going to be a lot of fun! After my pieces were cut out I took watered down white acrylic gauche and painted the swirls into the fabric.
The actual design that I made is very stiff because I fused a heavy interfacing to the fabric. At first I was going to sew an organza overlay ontop of the interfacing fabric, but during the painting portion the grain line of the organza became warped and did not match up correctly. I decided that I would be much happier if I left the overlay out, because it wouldn't have looked as polished if I had included it. Instead I kept the overlay piece that I sewed and turned it into a separate skirt that I'm wearing here!
I will be posting my actual final project not long from now! I just have a few more photos to edit and then I'll be able to share more in full detail.
Until then, there are more details over on my blog: Esther from the Sticks! http://esther-fromthesticks.blogspot.com/2014/09/summer-sewing-painted-circle-skirt.html