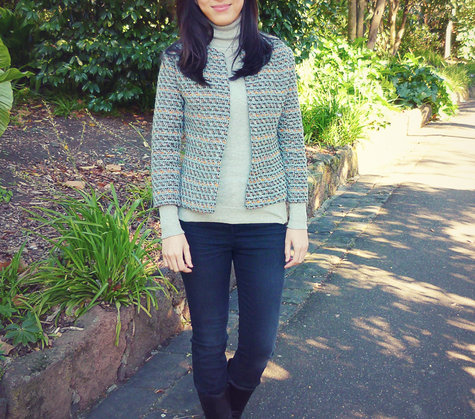 I wore this Vogue 7975 jacket out over the weekend with a lightweight turtle neck sweater underneath and skinny jean. It was very warm and comfortable. I think it will look just as well with a dark pencil skirt or a wide leg pant at the office. I love tweed jackets in general and sewing with couture techniques really adds special value and feeling whenever I wear it. If you're in to tweed jackets like myself then I highly recommend this pattern.
The princess seams jacket is very easy to sew and flattering. I follow couture techniques from Craftsy class by Lorna Knight so I don't know whether Vogue's instruction is easy to follow or not. I did not need to alter the pattern apart from blending between lines for the waist because I cut size 6 for bodice and 10 for the waist.
More construction details and photos are on my blog
xx.