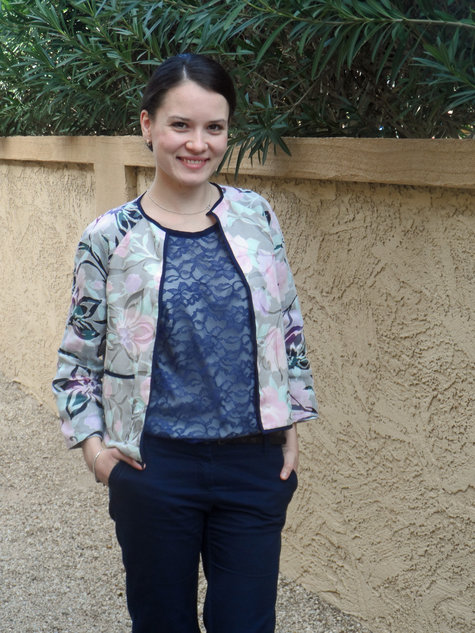 Pattern: Burda's pattern from 3/2014, lace jacket 129, plus size. This one required a lot of alterations, A LOT. The original pattern is a plus size pattern, so it took some time to size it right. It came out great, therefore I am happy!
Fabric: burnout cotton, rayon of two colors: pink and blue. The body part is lined in a blush pink rayon and sleeved are line with dark blue rayon that gives it a pop of color and originality!
New experience: this is my first jacket ever, and everything was new. When I started, I was a little bit unsure about the fit of raglan sleeves, doubting the thickness of the fabric as well. For this type of jacket you don't really need a thick fabric to hold the shape. Original pattern called for two slit pockets, I decided to omit that step and make only one sewn-on pocket with a contrasting edge.
By the way: this blue lace blouse is also my creation, take a look at it here!
I am absolutely in love with this jacket! It is easy to wear, very colorful and vibrant!
More photos and information on this jacket, on Go Ask Alisa