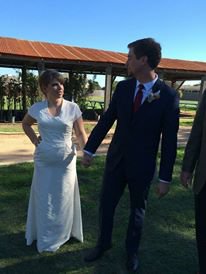 I knew before I even got engaged that I would make my wedding dress. Actually, I had the fabric, but that's just between us.
The dress is based off the Matthew Williamson 09/2012 sheath, with some major modifications. I cut the front neckline into a v, omitted the lining, raised the back to create full coverage, and lengthened the hem into a flair with just a hint of a train. It's made from a sheer ivory-on-ivory polka dot cotton/poly blend backed with a silky-smooth poly. Oh, and I kept the pockets!
My mother (bless her soul) finished hemming the dress AT the venue about an hour before the ceremony. There are some changes I would make if I had the chance – installing that silly lining (I ended up whipping together a slip that bunched up and kept showing), cutting the hem a little differently, etc.
But all in all, I got married with a smile on my face. My husband's slim-cut blue suit perfectly matched the fitted sheath gown. I topped it all off with a vintage felt hat. We were married in Texas in November, and enjoyed a perfect 83-degree day at our rustic barn venue.