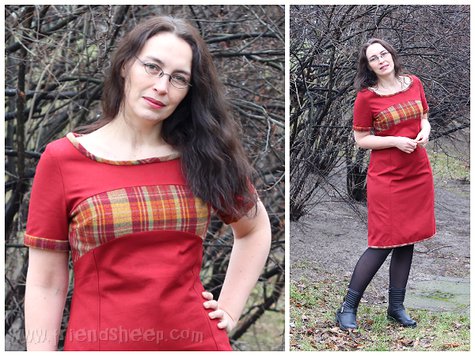 Here is is – Marsala dress. It's a pattern 118 from Burda 11/2003.
I chose two fabrics – maroon thick jeans and a checkered wool. I decided to change the design a bit and added the woolen bands on the neckline and the edge of the skirt.
The dress was jinxed from the beginning – I couldn't start to work on it, then when I cut out all the pieces I couldn't start sewing it… Sewing machine had some problems and when I finally fixed it it turned out that the special jeans thread by Gunthermann frays like crazy and breaks very often. I ran out of it very quickly anyway, the spools were very small. When I only had the neckline left to do and I tried the dress on, I realised that the neckline reaches almost half of my neck and I had a hump on the back from the excess of fabric! What's wrong with the Burda patterns?!…
I modified the neckline, made the pleats on the back wider and I was just finishing the hand sewing of the neckline piping when I did something terribly stupid….. I pulled the slider to close the zipper (why, oh why?!….) and I pulled it off of the unsecured end of the zipper!!!…… You should have seen my face – a dress in one hand, a slider in the other, the zipper closed tight without the way to open it. I tried to place the slider back on the zipper but I couldn't do it. I was that close from throwing the dress into the bin and neverevergoingbacktoit!…..
But then, when I took a long breath I thought since I cannot do anything about that zipper, and I don't really feel like ripping it, finding a craft shop and buying a new one on Sunday and sewing in a new zipper, I might just try to put the dress on with the zipper closed. So I did and it WORKED! o I quickly ripped the zipper away, stitched the back seam, finished the neckline and thrown the dress into w washing machine, done!