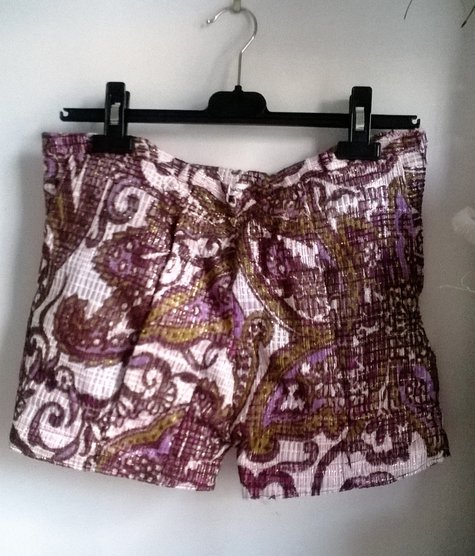 Pleated Shorts – BurdaStyle 2/2013 #129
They're not that bad, although my mother initially thought they'd look great in a 'pride' parade, lol! The groovy fabric wasn't easy to work with because it was originally an unfinished homemade evening dress I'd found in my vintage stash – I think the fabric is boucle – and it was a few sizes too small for me, so I attacked it with my scissors lol. I had to carry out some hidden piecing so I could have enough fabric for all pattern pieces. At least it came complete with pretty satin lining which I used.
I like the pleating, lined pockets, and high waist, however my version has no leeway and grips to the thighs, lol! My waist band ended up thinner than intended. I liked learning to sew the crotch seam as these were my first shorts. I must admit they might be a size too small, but I'm sure they won't split when I sit down, and they're still comfy to wear. Time to put them to use on the New Years' party circuit lol!