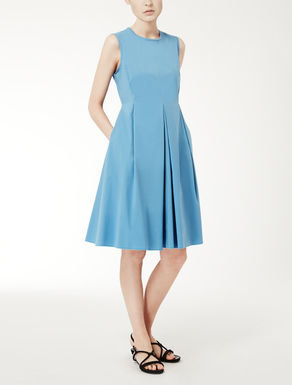 Shopping in summer could be fun but certain tips could be really useful to beat the heat in style! Apart from buying shoes a half size or full size bigger than your regular size, there are other criteria which has to be prioritized before buying new clothes this season. Ladies, here are the six summer shopping hacks you need to know before your shopping spree begins!
FABRIC
While shopping for this season, fabric is the most important priority. When it comes to fabric; be super choosy!Light-weight fabrics like cotton, silk are perfect for dressing up in summer. Linen is the best summer material available in the markets. Cotton & silk blends are also among the available picks. More breathable the fabric is, more comfortable the wearer will be.
Easy breezy sheer fabrics like organza, chiffon should be considered as well.These are light-weight as well as fancy, thereby useful in both daily wear & party wear.
COLOR
The second factor which you need to consider after fabric is color. Lighter hues like rose, peach are recommended while neutral colorpallet could be a great idea for mix n match. A lil touch of Neon& bright colors are a good option for adding that spring- summer flavour to your wardrobe.White is another option to be tried White is the new black this season!
ACCESSORIES
Accessories add to the cool factor in your look but do not indulge in overdoing.For starters, add a necklace or belt in cool shades to enhance your look. Scarves & hats are thebest accessories to explore this summer.
Minimal Jewellery:Jewellery is better kept minimal this season. Opt for a chunky neckpiece or earrings with your outfit.
Scarves: Wearing a plain t- shirt? Wrap around a colourful scarf to enhance your look. Printed scarves paired with monochrome outfits could brighten up the entire outfit.
Hats: Hats can be a cool accessory to play with in your daily wardrobe. This is the checklist you should follow while purchasing hats.
Shape & size: The Hat size is important in determining if a hat will fit or not. The hat has to fit your face shape as well. A hat's brim should not be wider than your shoulders width.
Style: There are a wide variety of styles to check out. You should pick a hat style that would flatter your face shape.
Fedorras: This chic style is suitable for all face shapes.
Floppy: The wide brimmed ones with stripes are definitely a cute recommendation for this season. Step out in style!
Bucker hats:This one is comfortable & Stylish at the same time.
Cowboy hats:This light- weight one is perfect for day outings.
PRINTS
Summer is incomplete without prints. Gingham to abstract, prints are going to dominate your summer wardrobe. Add a dash of prints to your monochrome look & win complements.
Gingham: Team up your gingham prints with a solid color to proportionate the look.
Abstract:All-time favourite abstract prints can be worn to official meetings!
Graphic: Flattering graphic prints can be interesting for a day out occasion.
Tie n Dye: this trend has made its comeback brilliantly dominating majority of the fashion shows in 2016. One Tie n dye product is a must-have this summer!
BASICS
Basics are our saviours in this rising temperature. Plain T shirts or graphic t shirts could be of wide use. Denim shorts, flattering dresses, cute skirts are the basic ingredients to beat the heat. While shopping, ensure you gett-shirts of good quality cotton.
T- shirts:
Skirts: Skirts in sheer material or fringes are also among the trends to be shopped. Pleated skirts, midis or minis with flare are recommended.
Off shoulder& Cold shoulder tops: These are the hottest styles trending in the fashion domain currently. Add one piece to your collection & amaze everyone.
Kimonos: A kimono is one simple way of looking chic in less time. Add a Kimono to your daily wear T-shirt & pair of shorts or a simple dress to create a whole new statement.
SUNGLASSES:
Last but not the least, do not forget your sun glasses! This is the most important ingredient of your summer collection. Umbrellas & sun screen are other things to keep calm in this heat. Stay dehydrated & enjoy the sun!