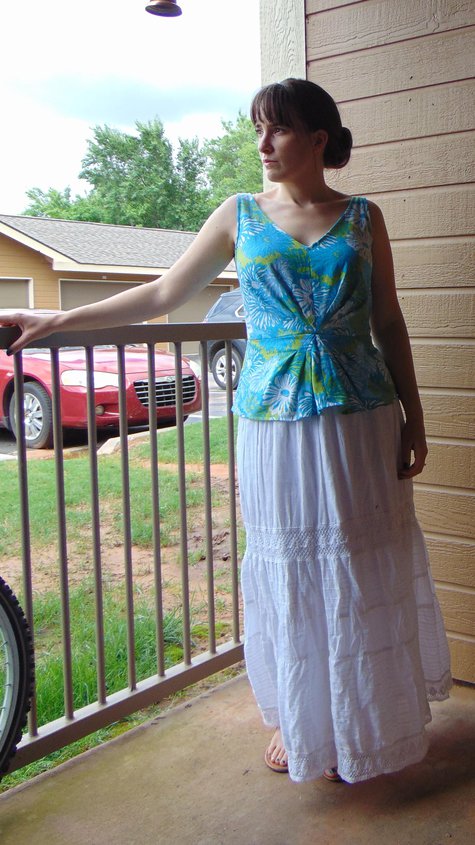 This is actually my muslin for the dress I am going to make for a friends wedding reception. I am making BurdaStyle V-neck cocktail dress with starburst. Thank God I decided to make a muslin, this is actually my second muslin. This dress (well blouse section of a dress pattern to be more precise) did not sit well on my shoulders at all! It was falling off. Also when I placed the should straps where they were supposed to be the neck gaped something awful! So I cut my pattern at a diagonal from halfway up the neckline to about halfway up the side seam and overlapped the edges at the neckline the same amount that I had pinned on my muslin. This not only fixed the gaping neckline but also brought the shoulders up to where they are supposed to be. I also had the same problem on the neckline in the back and made the same adjustment to the pattern.
Originally this was just going to be a muslin but it started turning out so wonderfully I had to keep going. So I found an appropriate zipper in my stash and I used bias tape on the neck and arm holes instead of a lining. I didn't realize until it was too late that I had sewn the wrong edges on the bottom in the back. I switched the right with the left so my darts did not match up, a little bummed by this but by no means is it a deal breaker. I think the print of the fabric breaks up the seam lines just enough so that is not too visible. I also inserted the zipper so that it zips down instead of up, I think blouses are easier to get on that way.
Fun fact, this used to be a skirt! A skirt that was about 5 sizes too big for me but I loved the print and it only cost me $0.50 oh yeah! For less than a dollar, how could I say no? The zipper alone was worth more than that! :P
I am so happy with how this muslin turned into a real blouse, I can not wait to make my dress!
So keep your eyes open for the reveal of my wedding reception dress!