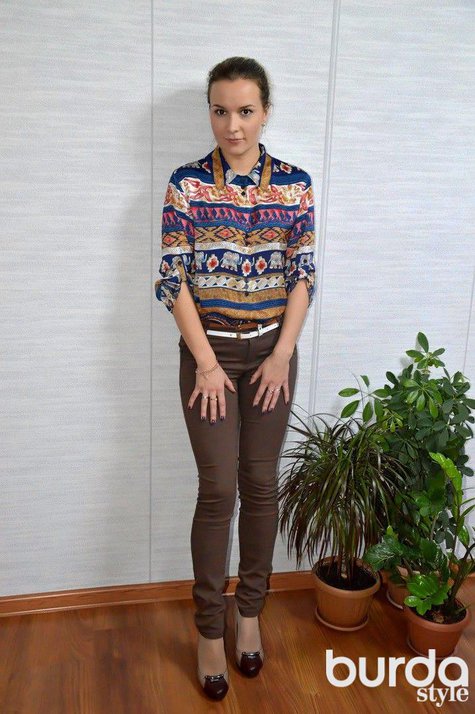 My new shirt from the category of Taming of the Shrew) Fabric silk striped with a coupon … really liked this: stripes, elephants … The predominant colors are my favorite: beige and blue. Seeing the picture before my eyes surfaced pictures from the Internet: Cambodia, Thailand, huge elephants, excerpts from the cartoon Mowgli, warm, fragrant spices …. can someone not so ….. Silk pleasant to the touch, soft, gentle, Comfort. Took a long time does not (do not) thinking.
Here I suffer with sewing))) Although the entire process to give pleasure! I probably first took such a complex fabric for me. The result is very good. The pattern chosen with a minimum of parts on the shelves so as not to cut strips with drawings. Burda 3/2013 shirt 124. I love this cut shirts, like three-quarters sleeves, buttons of love. Wuth jeans, shorts, pants, skirt and leggings! Universal thing turned out – just like I love!
Chocolate pants – is a kind of experiment. Did not want to change the favorite magazines, but in search of the perfect pants pattern found in other publications. I chose pattern from another russian magazine Chic 6/2014 14. Photos models in the magazine attach.
Cloth jeans in diagonal stripes. On assurance of the seller, jeans and wool. Rear pockets replaced by leaves-l'oeil, which makes for the first time. I took them with these pants, which originally wanted to try to sew. It should look like it? .. Full pockets, leaves something I do not master did not understand ….))) post the photo result … The experiment was quite successful.