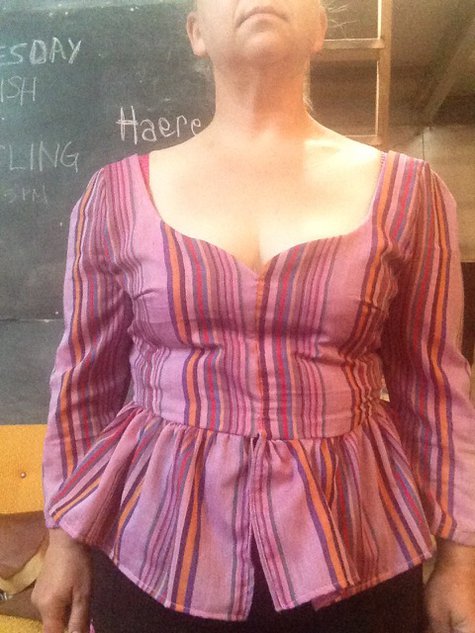 From Burda Style 5/2014 magazine.
Blouse with peplum.
It's just basted down the centre front for the moment – I will add the hooks & eyes later.
Overall this came together fairly quickly (while I watched The Man From UNCLE + 1 episode of Wolf's Hall – 3 hours?) even with me having to unpick a few bits because I wasn't paying attention and put the peplum on backwards.
I like that this is lined with same fabric, but you could probably also line it with something else of a similar weight.
If you using very lightweight fabric it might be worth using some fusible interfacing to give it more structure on the front piece.
It is quite low-cut, exposing more than I would like!
I would add 2 cms to the front neckline and 1 cm to the back neckline.
I cut a 44 which fit in the bodice but is too big on the shoulders, they keep falling off my shoulders.
I probably would need to take the shoulders in to a smaller size and shorten them as I have slightly narrow shoulders. To fix the falling-off-shoulders issue I took the centre back seam in a bit along the neckline, which made my stripes look all wonky, but I think it's the best fix for now?
Otherwise I like this top, my boyfriend loves my cleavage in it, though I wouldn't wear it out in public without something underneath it!