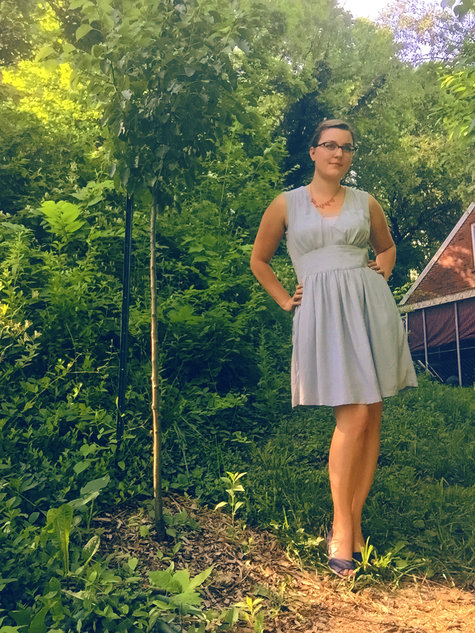 I used a beautiful, lightweight rayon challis from fabric.com. Honestly, the fabric probably wasn't the best for this project, but it still worked out. I ended up having to fully line the dress in order to make it somewhat opaque and I had to be really careful when ripping out gathering stitches because the challis is pretty delicate and shows snags easily. Also the wrong side and right side are virtually indistinguishable except in certain light.
I cut a straight size 14 of this pattern after checking the actual waist measurement and making sure there wouldn't be too much ease. I figured with the way the top and skirt is gathered the fit should be pretty forgiving. That was pretty much right on, although if I make this pattern again I will probably adjust the neckline to make it higher and take a little out of the shoulder seam and a little out of each waist seam.
That said, this dress is very wearable and it's super light and flowy. Perfect for summer! Actually, the looser waist is kind of nice, too, so I don't feel like I have to suck it in all the time
There was nothing too crazy about this pattern except for the side zipper and in-seam pockets. I've done in-seam pockets before but it was a little different when I had to sew a zipper into the side of the pocket. The instructions were clear, though and I didn't have an issue with the pockets. Of course, I put the zipper in on the right side instead of the left. Oops. Just a learning experience for the next time, I guess!