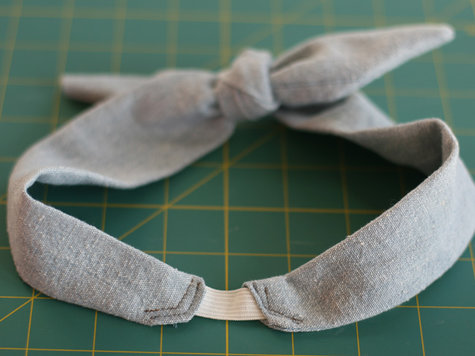 Are one of those pretty ladies who admire the classy and oh-so-flirty 50's fashion style? And although committing to a full retro attire will not look as fashionable, adding some chic accessories of this nostalgic era will complete a lovely and tasteful look. Here, I offer you an easy tutorial of how to make your very own 50's style headband. The beauty of it is that it is simple and unpretentious, but at the same time if you choose the right colour and pattern, you're look will definitely stand out.
Here's how you can do it:
1. Cut out two identical pieces of your chosen fabric. They should be pointy at one side (think the end of a bow tie), and even on the other end (as shown in the pictures above). The pieces should be about 35 cm long, and 6-7 cm wide.
2. Next step is fold each piece in half and sew all three sides. Just leave a little space at the corner of the even side, so you can turn it inside out.
3. Use the pointed ends to tie a sleek knot, which will be the top of your headband.
4. Try the headband out, and measure how much elastic you will need to connect both loose ends. Jut keep in mind, you'll need the elastic to be about a couple of centimetres shorter than the actual distance, so the headband will be tight enough and stay at place.
5. Now sew each end of the elastic in the small wholes, which you left on the even sides of the headband in order to turn them inside out.
And here you go – you try out your new retro chic look!