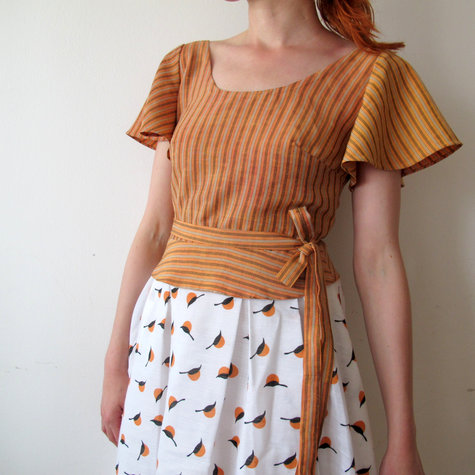 In the last photo you can see a gorgeous dress pattern I found in one of my vintage Burda magazines, from July 1974. It has an open back, beautiful flutter sleeves, a backwards wrap and, most importantly – it's in my size! (a big thing with vintage magazine patterns, as they come in one or two sizes only) With vintage patterns you can never be sure about the fit so my plan was to whip up a quick muslin before cutting into a precious fabric I had in mind for this dress. Going through the leftover pieces in my stash I came across this lovely poly linen bland and I thought why not try and make my muslin into a wearable blouse? And that's what I did.
I really believed this would be a quick and easy project! Oh dear.. was I wrong.
First thing I had to do is to lower the bust darts for whole 2,5cm – they were so high! Also, back sides were gaping and sliding off my shoulders so I sewed a bit of elastic along the edges of back opening to help keep them in place. It helped, but there were other problems still..
As much as I tried I couldn't get back side to lay nice and flat, especially at the lower back area. Swayback adjustment would probably help with this (I often need one), although I have to figure out how to make one on these pattern pieces.
Also, it seems that back is pulling the front as the front of the top rides up a lot – I have to readjust it all the time! I'm not sure what's causing this.. It might be because of the elastic that I added to the back opening, although it shouldn't – it's only lightly stretched, hardly strong enough to pull the front side up. There's a chance that adding a skirt would fix this issue – after all, this is a dress pattern and I can see how the bodice might hang much better with the weight of the skirt pulling it down. Not to mention that I'm not even sure is this pattern designed for woven fabric in the first place! Instructions say nothing about the fabric recommendations (surprise surprise!), and while the dress in the magazine looks like it miiight be made in knit there ARE bust darts in the pattern so I guessed woven is ok too?
To sum this up, after all of this one thing is sure – I'm not in a hurry to start sewing this dress any time soon! I still love the design very much but I'm not in the mood to do all the extra work to ensure a good fit, at least not at the moment. I'm thinking about maybe using some tried&true pattern for the bodice (like #103 03/2011), tweak it a bit to get the same look and add the skirt and sleeves from the vintage pattern. It definitely sounds easier than trying to fix this one!
As for this blouse, despite all the troubles and fit issues I'm still calling it a success! First of all – it saved me from a huge amount of stress I would inevitably go through if I had decided to cut into a nice dress fabric right away. Also, the fabric I used was a leftover and flawed piece (can you see that left sleeve and back side of the peplum are different in colour than the rest?) and I was happy just to use it as a muslin for something – to squeeze a wearable garment out of it is a huge win!
As I mentioned, there's this annoying issue with the front of the blouse riding up (I still have hopes that with some additional work I can fix it) but despite that I think it's a very cute and wearable blouse. Also, it goes so well with so many separates form my closet (all made by me!) which is amazing, since I'm so bad when it comes to planning my sewing around my existing wardrobe :D
All in all, it's a lucky accident of a blouse! And hopefully, one I'll get to wear at least some :)