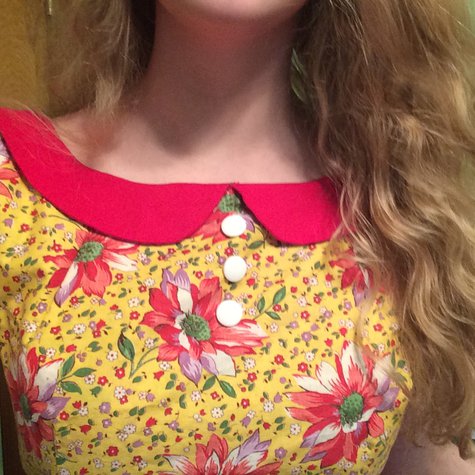 This project started forever ago when I first picked up this vintage floral cotton at a local antique store (Which I also used for my Sister's Skirt ) I decided that I wanted to make a dress, which was going to be my first real big sewing project ever.
I made the pattern myself using this wonderful tutorial from Annika Victoria for the bodice. I, however, messed up my measurements, which led to a hecka lot of alterations, including adding two more sets of darts, taking in the sides, and bringing up the shoulder seams (thank goodness busy fabric!)
I then made the skirt from and existing four panel circle skirt pattern I made for my Nesting Doll Skirt (will post about that soon) in a 50's style tea-length.
I decided that I wanted a collar, and bought some red quilting cotton from JoAnn's for just over a dollar and a set of three buttons for the same price. The collar I did using this tutorial from coolirpa (the understiching really makes a difference!)
Because I was making this dress in my free time, running into all of the fitting issues, and trying to adjust to high school at the same time, this dress took me over two months to complete, but I'm really happy in the results. It reminds me of something found on Modcloth, so I am very pleased!
P.S. sorry for all of the different colors in the photos! I took these all throughout the day in different lightings.