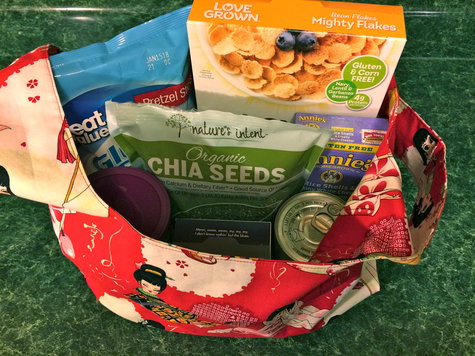 This is another idea that I just had to get out of my head. I wanted to make a grocery bag out of quilting fabric just because I have so much of it and I want to use some of it up. I drafted the pattern myself. It took about three tries to get it just right. I wanted the bag to be really close to those plastic bags that you get at just about every store. I also wanted to get the most out of every inch of fabric. I hate having scraps left over that either get thrown away or hang out in my stash for what seams like forever.
The bag requires exactly 3/4 yard of 44" wide fabric, 1/3 yard of 1/4" wide ribbon, and thread. I can make two of them in an hour and a half. There is even a little pocket on the inside. When the grocery bag is not in use it can be stuffed into the pocket and stored someplace handy like your purse or your car. Since the bag is made out of 100% cotton quilting fabric it can easily be washed and run through the dryer.
So, I'm thinking about selling this pattern as a PDF download for $5 and/or sewing up a few to sell for $15 each. What do you think? Would you want to sew up a few for yourself or give them as gifts? Or, would you want a custom one made for you that expresses your personality perfectly?
Be sure to check out my Etsy store for some great fabrics to make your own bag like mine.