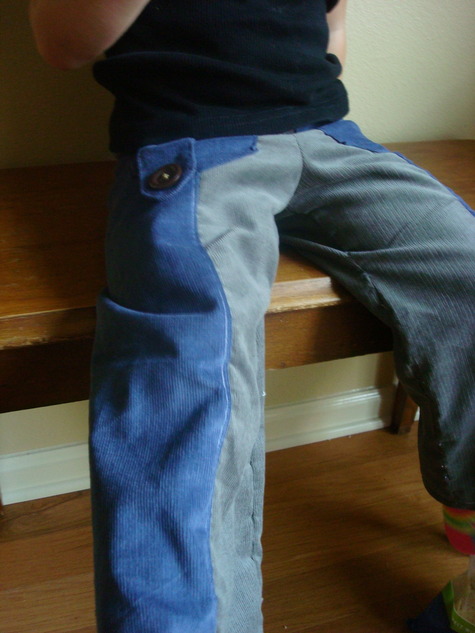 Trendy styling suitable for boys and girls, including slant front pocket, button tab, light elastic waist, and lots of topstitching.
For those of you searching for cool boys sewing patterns, look no farther! The Kevin Trouser looks great on all kids, and isn't your typical pant pattern.
Suitable for any non-stretch fabrics. Shown in skinny corduroy, but I also recommend trying denims, wide corduroys, and even wools.
This pattern will guide you through the process of making these trousers with step-by-step full color photography and a size chart of finished dimensions. Pattern pieces are easily printed on regular paper (pieces are cut on the fold or pattern pieces can be doubled and taped together easily).
Pattern sent as a PDF. Patterns are emailed within 24 hours of order.
Who's Kevin?
Kevin is a recent friend who waxes poetic on frugality and the value of the simple life. And while he's busy founding a new theatre company, he's surely no drama queen. (Check it out at www.freefalltheatre.com — I'm on the board!)
Join in on the fun (and get deals) at:
http://www.facebook.com/EmilieRebekahDesigns
Blogging on the crafty life, and all things modern stitchery:
http://online-sewing-patterns.com