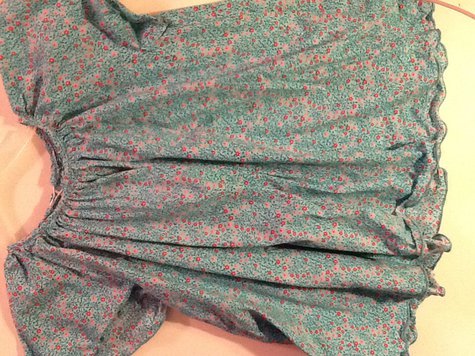 , un patron de Burda qui ressemble trangement la « Marie » de Citronille sans toutefois tre identique. Je l'adore! Trop mignon, trop coquet et tout fait approprie aux huit ans de notre demoiselle! Mon seul regret; de l'avoir fait si tard en saison car elle ne sera pas porte autant que je l'aurais voulu. C'est qu'elle demandait une grande quantit de tissu cette petite blouse tant donn son ampleur et malgr mon enttement la raliser, j'ai eu de la difficult la caser dans un des tissus de ma rserve car elle demandait un tissu souple souhait mais avec une largeur peu commune. Bref, j'ai fini par avoir un clair de gnie et deux mois aprs avoir copi le patron, la voici! .
A magnificent little blouse which will turn with her if her heart wishes! It looks a lot like the pattern called Marie by Citronille but is by Burda. My only regret is to have made it so late in season but I had difficulty finding an appropriate fabric in my stash that was large enough for what the pattern demanded. Sometimes it takes times to make those perfect pairings;that fabric was in my stash for a while, I just hadn't associated it with that particular pattern! But it's perfect in my opinion!
Le tissu, encore une fois, est de la marque Stenzo, et provient de la boutique en ligne L'Oiseau Fabrics (je l'ai d'ailleurs dans une autre couleur que vous verrez sur le blog d'ici une semaine ou deux). Le patron est tir du magazine Burda Style juillet 2014 et est ralis en taille 128 pour ma fille qui vient tout juste d'avoir huit ans. À faire et refaire, un classique!
The fabric, once more, is from Stenzo and comes from the online boutique L'Oiseau Fabrics ( I also have it in another color that you'll see in a week or two on the blog). The pattern is from the July 2014 Burda Style magazine. I didn't do the lace appliqu finding it unnecessary. I made a size 128 for my daughter who just turned eight. It's a classic pattern, to make again and again!