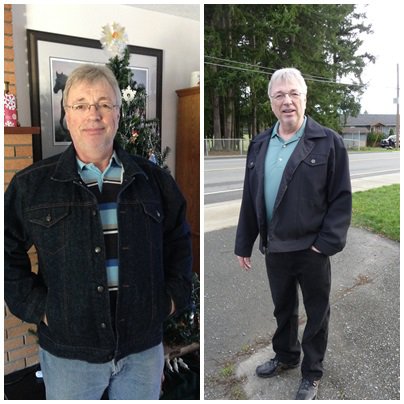 These two jackets are made from KWIK SEW #3251. This was the first time trying this version, as the older pattern that I used previously became damaged in a little flood. :-( The day after I purchased the new pattern, I found a brand new older one at the Thrift Shop for $0.25, so I purchased that as well. :-)
The black jacket is from a summer weight wool blend with a thin pinstripe, and I lined it with twill for support. The twill has a satin finish on one side, so the jacket slips on and off easily. In the lining I built in two pockets, with each having a hidden pocket inside with a zipper closure, just perfect for his passport and cellphone. There is also a slot in the pocket for a pen. My husband requested a zipper down the centre, rather than snaps or buttons.
The other jacket is from a heavy weight denim I was lucky enough to find from a store that had closed down. It is firm, has no stretch, and is perfect for denim jackets for men. I used a bronze top stitching thread this time for variation. We used bachelor buttons for the front closure. The jacket is lined with fleece that I had in my stash.
I tried to convince my husband to have the patterned side of the fleece showing, but he didn't go for it. Although it does show in the inside of the pockets, which I did on purpose. However, I have included a picture of the right side of the fleece especially for Mary; it's Beetlejuice!! :-)
And of course, the dog went for a walk on his own while we were doing photos. :-)
From the pattern: The Men's jacket has a front button closure, front and back yokes, a three-panel front and back, pockets in the front yoke seam with button flaps, pockets in the front side panel seams, two-piece sleeves with button cuffs, and a waistband with button tabs.
This pattern is easy to use; however, the sleeves are to long in this version. The old version of the pattern, the sleeves were to short.