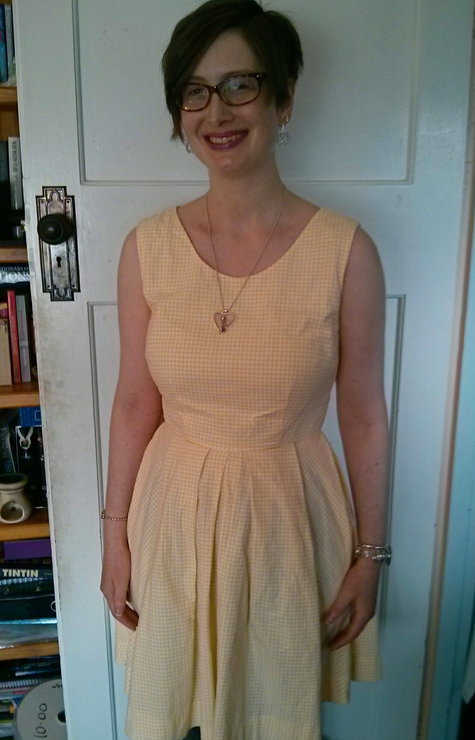 Project Runway do make some fabulous patterns, and Simplicity 1873 is one which has spawned consistently perfect iterations. This yellow gingham doona cover was just right for the pattern. Unfortunately, it had several mysterious pink stains, most of which I managed to cut around. There is one still lurking on the shoulder (don't look!).
Surprisingly the bulk of the bodice fit well. I just had to add a forward shoulder adjustment, by letting out the back shoulder by 1cm and the front by 5mm. I added quite a bit of width to the sleeve to fit the new armhole and give myself a bit of moving room, but it looked so ridiculous I took it out and slip stitched the shell and lining together at the armhole.
Other minor alterations included lowering the neckline to fit somewhere between versions A and C and changing the back to a lapped zipper. The centre back pleats had to be moved towards the side to accommodate the zipper. Kathleen Fasanella's method of lapped zip insertion is actually perfect. In the spirit of trying new things, I attempted to attach the lining to the shell waist with a blind hem, as per the below Coletterie tutorial. The batiste hated the blind hem and scrunched up to a tunnelled mess, so after lots of unpicking, it's back to the hand sewing. Oh, and the obligatory inseam pockets are there, just hidden by the side seam pleats.
Fashion incubator lapped zipper: http://www.fashion-incubator.com/archive/lapped_zipper_construction/
Clean finish waist by machine, Coletterie: http://www.coletterie.com/tutorials-tips-tricks/how-to-clean-finish-a-waistband-without-hand-stitching