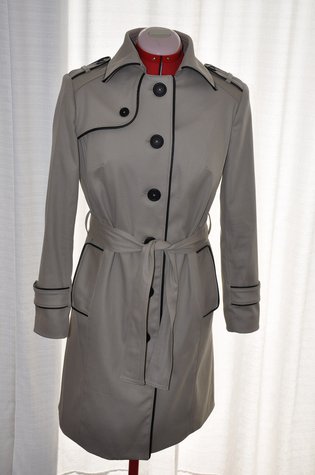 Here is my latest project, I love it. :) ( if you click on "see all pictures" then you get the pictures good )
Pattern Description:
trench coat,
Pattern Sizing:
40-48 ( spanish sizes)
Did it look like the photo/drawing on the pattern envelope once you were done sewing with it?
Yes
What did you particularly like or dislike about the pattern?
I like all the classic trench elements and the interesting pleat on the back.
Fabric Used:
Not sure what is called, but it has some stretch also.
Pattern alterations or any design changes you made:
I added the black faux leather piping as a design change.
As pattern alteration I had to make the sleeves 1 cm wider on each seam as they were so tight I could barely get my arms in. Also i added 1 cm at the sleeve hole and I shaved a little off from the sleeve cap.
Would you sew it again? Would you recommend it to others?
there are so many jackets I want to make , so I don`t think that I will sew this again. I recommend it but I strongly recommend a muslin first.
Conclusion:
I love this coat, I wanted so bad a trench like this, this was actually 2 years ago planned…well better later than never