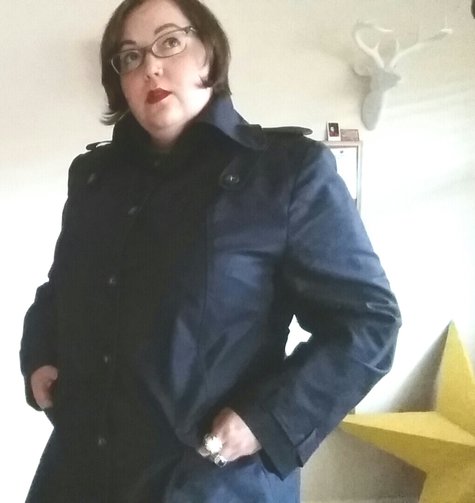 I made this from a double weave cotton in deep navy blue. The fabric has a beautiful sheen and is a refined option to gabardine or melton like the Burda photo.
I got the buttons at Pacific Trimming in NYC. I wanted something nautical but not overtly military like a brass crest shank. They sell decorative shanks that snap into different color or size options of plastic button discs, so you can customize your own style.
I graded up with mixed results. This was made before I knew about full bust adjustments. The more I know now, the more I debate the success of this project.
The make is very labor intensive with many pieces and lots of top stitching. I do not know if I would put myself through it again! I also bound the inside seams with rust colored silk habotai, which made it more so…
I loved this pattern because the silhouette is nice and the collar is super dramatic. I sometimes feel like Ingrid Bergman when I wear it.