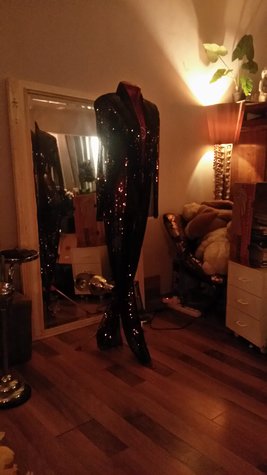 My actual inspiration came from a vintage Vogue pttn, nr. 7834.
Searched the net untill i was blue, but sadly nowhere to be bought.
So i drew it myself, based on standard ptts for pants and blouses wich i married together and then modified to a tailored jumpsuit. To be made of golden brown sequined material. Same colour lining.
No figure hugging darts, just 2 flat pleats in the front and the back at waist height.
I do cheat when sewing sequines. I just don't pick and remove sequines from sewing line.
After final fitting i baste with small stitch on inside of fabric. Then on right side of fabric, with seam allowance layed flat to 1 side, i baste again with small stitch midway through seam allowance.
Seems enormously time consuming but believe me, no comparison to removing sequines beforehand and having them to glue back on in the end.
Here's some preliminary pics. No lining yet though. Right in the middle of that.
1st pic no flash, just mood.