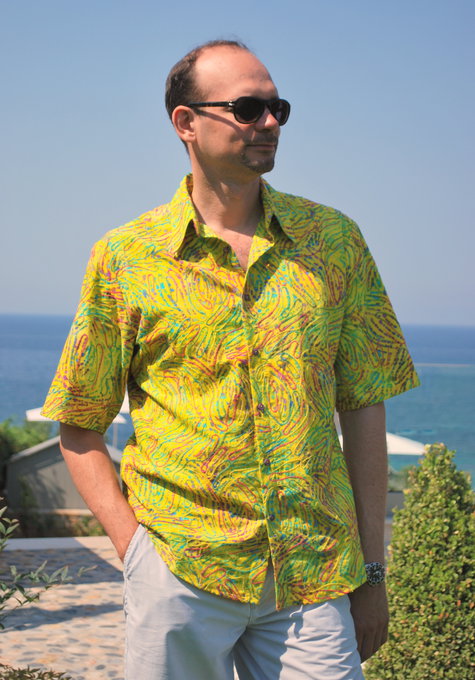 My husband likes bright and colorful shirts. And I like working with fabrics with an interesting pattern. And love treating him to funky summery shirts now and then, just in time for summer vacation.
I came across this cotton with a bright psychedelic print a couple of years ago. The acidic yellow background of the fabric is covered with batik print and colorful embroidery. This summer I decided to turn it into a shirt for my husband. What I love about sewing summer shirts is that they are quite easy to make and if you are sure about the size, they can even make a nice gift with a personal touch as they do not require much fitting.
For this shirt I used 1,5m of fabric for size 52. I used a soft woven vlieseline 789 for the interfacing of the collar. 8 square shirt buttons are sewn on with a contrasting thread.
I loved the pattern (model 131 March 2009) and will probably use it again as it has fitted yet comfortable silhouette. And the original model of the shirt with its versatile detailing allows plenty different variations.
More about summer shirts for men on my blog http://katyasgallery.blogspot.com