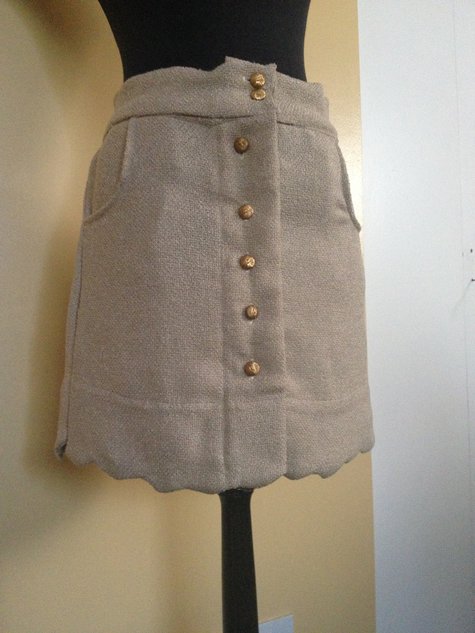 This is boucle from the stash. First time working with this material. Its a pattern from Nette Vivante. On the form its great, yet on me requires tweeking. This material is one of those materials that shows all. I think I am going to make a slip for it with a nice edge of lace that can extend the skirts length down to the knee.
I was so excited that I did not realize how short this is on me. That's ok as there was not enough material to make the skirt much longer. I did adjust the width of the waist band. I will also adjust the buttons (which are vintage & metal) to the edge further. Likewise will make another set of button holes further out to the edge. It will make me feel more comfortable.
I think adding another layer like a petty coat underneath will make it fun but also will conceal the texture of me under this delightful material. It just shows everything. Its tricky to sew as the loops kept getting caught in the teeth of the machine. The buttons took awhile. It also a stretchy material which makes it comfortable to wear.
Over all it was good practice working with a fun pattern & learning about a new material I never have tried. Its also a great pattern for a stash buster. Next one I make will have the length extended.
There is a flaw with my stitch along the waist band it drops oops…my eyes started to twitch. That's ok Ill fix it.