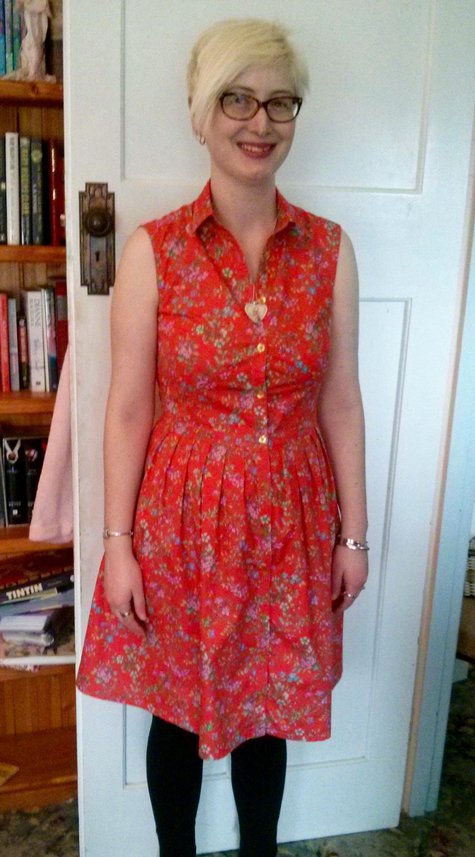 This dress is a knock-off of McCalls 6696 shirtdress, made in a stupidly convoluted way. The bodice is a modified Style Arc Jenny Shirt and the skirt is from 6696, with drafted waistbands and plackets, and elastic in the back waistband. Here's how I went about it:
- modify Jenny shirt pattern to have separate button placket instead of those that fold under. Try on muslin over dress with waistband and mark where to make bodice seam. Eliminate dart and add 1cm width to CB for gathers.
- draft waistband to be 2.5cm wide and the width of the bodice seam, to be gathered in with elastic in the back. Draft button placket to be the length of the entire CF dress minus hem. Adjust pleats on 6696 skirt to match waistband width.
- make up bodice and waistband, with the bodice slightly gathered into the yoke and waistband at CB. The bodice is sandwiched between the waistband and waistband facing. Try on and realise the waist seam is crooked; futz with it until it sits straight. (I added 5mm length to CF and took 5mm length off everywhere else.)
- attach skirt, realise pleat calculations were wrong and do it all again.
- secure 2cm elastic to left side seam. Realise you should have made the waistband in pieces so as to stitch in the ditch and hide securing stitches.
- tuck elastic in seam allowances of waistband and stitch in ditch to secure waistband facing from left CF to right side seam. Try on and play with the elastic for way too long to get it to a place you like. Smack head when you realise the 2cm elastic drags down the back waist.
- secure elastic in right side seam, trim. Finish stitching in ditch for rest of waistband.
- pin button placket to already-hemmed skirt and realise it is too short. Undo your perfect hem and shorten it with a much messier result.
- attach button placket and collar, with much swearing and unpicking of edge stitching. Try on and realise your bust dart, which sat perfectly in the muslin, is far too (which has never happened to this low-busted lady). Unpick side seams and redo.
- make buttonhole placement and sew buttonholes. Mark and sew buttons, realise they are out of alignment. Curse and unpick, mark and resew. Repeat ad nauseam.
- put dress in wash to remove fabric marker lines. They don't come off. Spend an afternoon scrubbing plackets with a toothbrush to remove marks.
Voila! A shirtdress.