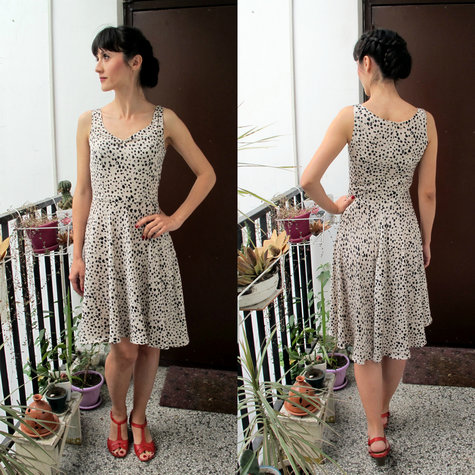 I made this dress for my beautiful friend and roommate Djurdja, for a wedding she had to attend a week ago.
Her demands and instructions were fairly simple – she wanted a fitted bodice and flowy high-low skirt. To get this silhouette I combined two Burda patterns – #115 from Burda 8/2012 for the skirt and #104 from Burda 02/2011 for the bodice. I also made little pleats on the neckline, to make it a bit deeper and add some interest.
The fabric is some poly-rayon blend with satin like finish, very light and with a beautiful drape. Although very slippery I didn't have any problems with sewing the fabric, but this bias cut hem – that thing was curling like crazy! I couldn't think of anything else but using a LOT of hairspray to make it behave – leveling and hemming this skirt was a definition of nightmare.
My friend was happy with the result and I think the dress looks very nice on her! Since she was running late and it was starting to rain outside I had to snap these pictures in a hurry and in our super messy hallway, so don't mind the surrounding :)