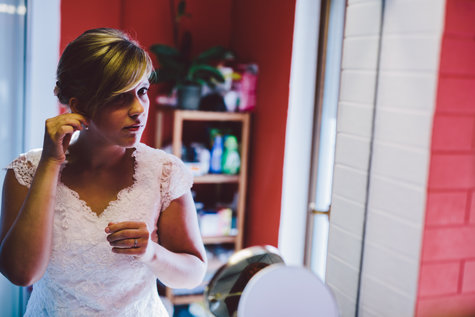 Already 8 months married, so it's really time to post my self made wedding dress :)
I basically drew a sketch of what I had in my mind and then somebody drew the pattern for me. The upper layer is rebrode lace, the middle layer is a crepe satin and the lower layer is just lining. The color is off white.
The lining and satin were sewn using the sewing machine. In order not to see any dart, seam, … in the lace layer, I have completely sewn the lace by hand using the applique seam technique, which was totally new for me. It took me ages, tears and also a very painful back: I had to start going to a physiotherapist a couple of weeks before the wedding because the hand sewing had resulted in a trigger point in my back. So I was on pain killers on the big day :) This is why I call it my painful wedding dress :)
3 weeks before the wedding, when I was serging a side seam in the crepe satin, my fabric was laying double (this NEVER happened to me before), so I had a huge rip in one of my skirt peaces :( Luckily, the lady of the fabric shop far far away could send me another piece of fabric fairly quickly :)
Oh yes, and 1 week before the wedding I decided to make a faux fur stola.
I am still extremely happy and proud about my dress, the dress was exactly what I had in mind. But I'll make sure I will never have to make one again :) One of the gifts I received from my mother was a very old tailor's dummy to put my wedding dress on and it's just beautiful to still look at it everyday :)