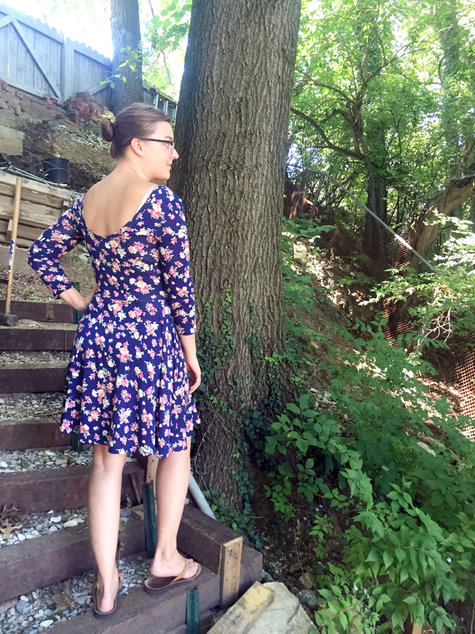 Buying fabric online is always a bit of a challenge…There's just no good way to tell how heavy or light a fabric will be without ordering a swatch (and who has time for that?). So when I ordered a floral knit from fabric.com I wasn't sure what to expect. I was hoping for something thicker to make a nice circle skirt out of but I ended up with a lightweight jersey that would be great for a t-shirt. Except I had 2 yards and no need for a floral tee.
It sat in my stash for a few months until I finally found the perfect pattern to suit its lightweight, stretchy nature. Enter the Nettie Bodysuit pattern from Closet Case Files. This pattern was made for 4-way stretch fabrics and has a body-hugging fit with negative ease. In order to make it a dress I just cut my bodice pattern pieces to end around my waistline and used a previously drafted 1/2 circle skirt pattern. Even though the two pieces weren't exactly the same size at the bottom I just pinned them together in few places and held the tension evenly, which worked out just fine.
It sewed up in about 3 hours and may be one of the most comfortable dresses I've ever made. I chose to do the medium back, scoop front and 3/4 sleeves with a 20″ long skirt. Next time I may choose to do a higher neckline in the front or back because the sleeves do tend to slip off my shoulders. Another way I could work on that problem would be to extend the shoulders a little bit toward my neck. One other tiny thing: I think the weight of the skirt is pulling down the waistline a little bit so I would shorten the waist by 1/2″ to 1″. Technically you should also let the skirt pieces hang on a mannequin to let the bias stretch before trimming the hem to an even length again buuuut we already discussed how I'm impatient and don't have time for that. I'd rather have a slightly uneven hem and be able to wear the garment asap.
All in all I'm super satisfied with my new floral summer dress!
You can read more about how I constructed the dress here: http://brookeschwass.com/blog/2015/08/nettie-summer-dress/