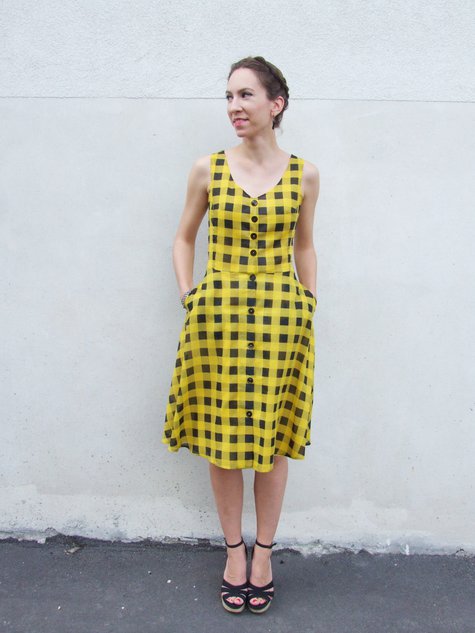 ♫ ♪ After The Moment
The dress is pattern #123 from Burda 09/2014.. I traced the pattern and shorten the length of the skirt for only 12 cm.. I decided to use a fabric from my stash and make a summer dress.. It was hard to pick one, so eventually I went with very lightweight cotton, originally white and black gingham print that I dyed in yellow.. Along with main fabric, I used yellow lightweight cotton for the lining.. The gingham fabric is very thin and you can see everything under it..
The instructions suggested 2.50 m of fabric, and I managed to make my dress with only 1.40 m! It's probably because I didn't cut the fabric diagonally.. I have chosen safer option for the bodice, and just continued like that with the skirt.. Now I think that it would be much more fun if the skirt was on the bias.. Side views of the dress are great.. As usual with Burda patterns, I didn't have any fit issues..
Also, I didn't forget to sew the pockets.. I was too lazy to go out and look for buttons.. I found them in the stash that my mom and grandma collected.. They are all different, but the same size.. Perfect :)
More info and photos you can see on my blog ..