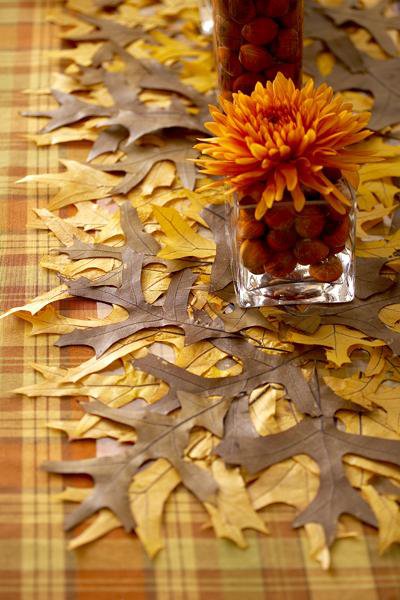 Leaves turn gold.
The weather begs for hot coco and pumpkins grace the land.
It's autumn – the time to give your home
a warm, welcoming appeal
and consider on a budget. You don't need much to give your home a make-over, but you need to have finished with the cleaning for the season, because a house that's not been thoroughly cleaned looks depressing when you hang your decoration.
You need this gleaming window surfaces, because you'll be working with lots of reds, oranges and yellows, so whoever looks through your windows needs to see the bright colours as clearly as possible. The idea is to mimic the beauty of a fire place without actually setting your whole home on fire.
Simple Leaf Installations
Leaves feature heavily in autumn decoration. You can opt to find beautiful fallen leaves – the brighter the better. You have an infinite amount of options for them. The very first thing you can do is place a leaves with their stems intact in beakers and other glass containers with very thin necks. These small pieces can be placed everywhere from the window seat to tables and perches across the whole house. Also, with big leaves, you need a rubber band or a thin string to tie them around candle holders. However, they are quick to decompose.
To avoid the smell in your home, melt some wax and carefully dip each leaf. You want a very thin coating that doesn't mask the bright colours. This way you create a more durable material, which I've found best to be hung in front of a window like a mobile. You need string or a thin rope to create a small hanging cluster that will move when exposed to drafts.
You can take the same idea and modify with for a bolder statement. The materials include thicket rope and clear glass jars of varying sizes. The leaves go in the jars, which are then tied around the necks and hung. Or you can puncture the lid and secure the rope with a knot on the inside. It's effective and durable and can stay on for months at a time without giving off the smell of a rot.
Leaves can also make great wall decorations, especially when you have a few spare sheets of paper. For this you need the brightest red and orange leaves you can find and press them onto the sheet of paper. This is a little tricky, because you have to press the leaves yourself on wax paper and using an iron, but it's worth it. In the end, you have these wonderful small motifs you can arrange in rows on your wall to great effect.
You can also modify the traditional wreath with autumn leaves that bleed from yellow to orange to fiery red for a striking visual. Suitable for both doors and windows, it's a great piece of decoration that draws the attention, but if you intend to hang it on a window, better make sure it's been thoroughly washed.
As you can see, decorating for fall is simple and takes a weekend to achieve. All you need is some creativity and a few household materials. Good luck with your creative endeavors.