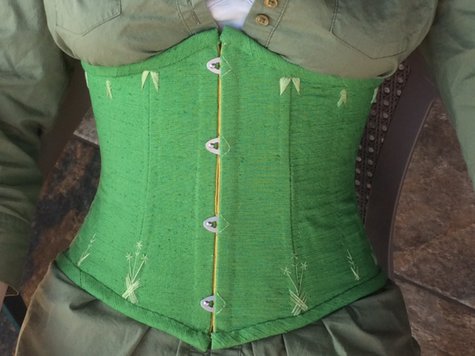 Made with Jacci Jaye's awesome underbust pattern, with minor alterations. First of all, pattern piece #4 is upside-down; the shorter side should be the interior seam. I also ignored the waist lines drawn on the pattern, since they didn't match up to each other between pieces 1 and 2.
I like the pattern Jacci Jaye made very much, and it fit me with no alterations. Note, however, that the instructions provided with the pattern are best suited for costume corsets, for occasional use. For example, the boning channels in the instructions run from top to bottom, with nothing to stop the boning from sliding up and down and wearing holes in the fabric. That's fine if you have plastic bones and you don't intend to lace the corset snug, but if you want a sturdy foundation garment, do as I did and supplement the instructions with other research. I curved my boning channels around the ends of the bones, and flossed over that to stabilize the bones.
Since this was my first corset and I didn't want to rush, I hand-sewed the entire thing. I used running stitches for the seams, backstitches for the boning channels, hand embroidery for the flossing, and slip stitches for the bias tape binding.
My unbound waist is 27''. When this corset is fully laced, my waist + corset measures 25.5'', a 1.5'' reduction. That's typical for a light-lace corset.